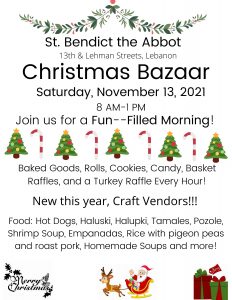 The Christmas Bazaar is fast approaching, it will be held on Saturday November 13 8AM-1PM.  We are hoping to make this event the best it has been yet.  If you could please give 1-2 hours of your time to help make the event a great success it would help us reach our goal.  Donating your time could be helping to decorate (done during the morning/early afternoon) baking (cookies, sandtarts, pies, brownies) making a craft to sell, putting a basket together for the raffle, or helping out at the event (working a table, serving food, or helping to clean-up).  The more hands we have helping creates a stronger parish community.  This year we are looking to grow the bazaar by having craft vendors. We will again be having a turkey raffle every hour.  Thank you in advance for any help you can give to make the Christmas bazaar a success.  God Bless you and your family. Midge Battistelli
If you know anyone that sells homemade items, please reach out to them to see if they are interested in a spot to set up and sell their merchandise.  They can text Nicole Andrews at 717-516-0309.
Candy pre-orders are being accepted.  Peanut Butter Cups, Peanut Clusters, Raisins Clusters, and Non-Pariels all can be made with dark or milk chocolate.  $4.50 per 1/2 pound. Please call Carla Hoke to place your order 717-273-0023.